Labour's Kim Howells rejects 'Soviet-style' industry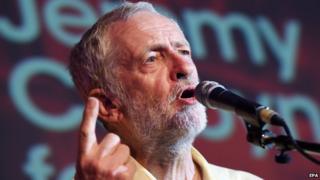 A return to "Soviet-style" publicly-owned industries would be "nonsense", a former Labour minister has said.
Kim Howells was responding to calls from Labour leadership contender Jeremy Corbyn to return services like railways and the Post Office to public hands.
The former Pontypridd MP, who served under Tony Blair and Gordon Brown, said it would "cost a fortune" and would not improve services.
Cardiff Central MP Jo Stevens said rail services were best publicly owned.
Clause IV
Mr Corbyn, who was beginning a two-day campaign visit to Wales on Monday, has called for a debate on public ownership of firms, saying some industries were "natural monopolies".
He also said he had objected to Mr Blair's decision as Labour leader in 1995 to scrap the party's historic "Clause IV" commitment to common ownership of key industries.
Mr Howells, who was a mining union's research officer before entering Parliament, said Clause IV "didn't relate" to the world that existed then, let alone now.
"The notion that you go back to that kind of arrangement where you have a Soviet-style economy of publicly-owned industries everywhere is just nonsense," he told BBC Radio Wales on Monday.
"The government won't be able to afford to do it and I don't think there's any public support out there for it.
"It would cost a fortune and I don't think it would improve services at all."
'Better way'
However, Cardiff Central MP Jo Stevens said it was a "proper argument to have", saying there was "overwhelming support" for the public ownership of the railways.
"We've seen through privatisation franchising that customers don't get a good deal, and staff working on the railways don't get a good deal," she said.
"There must be a better way to balance the needs of business, of the workers, of the customers and the shareholders.
"Public ownership - whether that's government owned or some kind of mutual like Welsh Water - is a way forward, and I think it's good we're having that discussion."
Two of the other three Labour leadership contenders - Yvette Cooper and Liz Kendall - said they rejected the idea of nationalising industries, while Andy Burnham's team declined to comment.