First minister 'angry' over £232,000 redundancy payout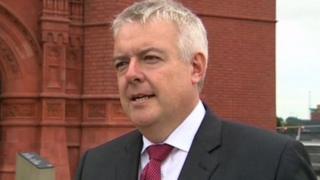 A £232,000 payout given to a senior Welsh government civil servant is said to have angered the first minister.
An unnamed civil servant received the redundancy payment in 2014, the highest figure given in recent years.
Carwyn Jones asked the prime minister to devolve terms and conditions for senior civil servants to try to avoid excessive redundancy payments.
The Welsh government said the request two years ago was refused and they had to work within the UK-wide system.
The payment is the only one in recent years to top £200,000.
A Welsh government source indicated the first minister was "angry" with the payout.
A spokesman for Mr Jones said: "The first minister has already asked the prime minister to devolve responsibility for senior civil servants' pay.
"This request was refused as the PM wanted the UK Government to retain centrally managed pay arrangements.
'Golden parachutes'
"The first minister is frustrated and unhappy about this situation and will continue to push for this to be devolved."
Under the voluntary redundancy terms of the UK Civil Service Compensation Scheme, a person is entitled to one month's pay for every year worked up to a maximum of 21 months.
The payment was made at the same time the Chancellor George Osborne was trying to cap redundancy deals for public sector staff to under £100,000.
A Cabinet Office spokesman said the payment was "totally unacceptable" and pointed out that, under the new system, any redundancy payment above £95,000 would have to be signed off by the responsible minister.
Leader of the Welsh Conservatives Andrew RT Davies said he wanted reassurances the senior official had not been re-employed by the Welsh government in a different role or as a contractor.
He said his party was taking "meaningful steps to ban six-figure golden parachutes".
"Carwyn Jones can try and deflect responsibility for this payment elsewhere, but he's been in charge for five long years and this certainly isn't the first time the issue of excessive redundancy payoffs has played out during his leadership," he added.
Plaid Cymru Mid and West AM Simon Thomas said: "The public will rightly be angered that, while their income is being squeezed by yet more budget cuts, it is considered appropriate to be awarding redundancy payments of up to £230,000."
A Welsh government spokesman said the payment was "processed and approved by the UK government".