Wales NHS care for major health conditions gets £10m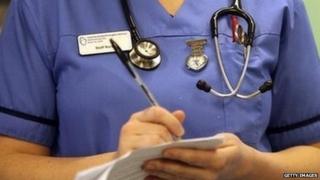 A £10m investment to improve NHS care in Wales for major health conditions like cancer and diabetes has been announced.
Deputy health minister Vaughan Gething said the cash would also improve services for heart disease, stroke, critical care and mental health.
Liver, neurological, respiratory, and end-of-life care will also benefit.
Each condition has a delivery plan, put together by clinicians, patients and advocates for excellent care.
FUNDING DETAILS
£1m will support projects to improve outcomes for people with lung cancer, including improving public awareness of the disease and a programme to get people ready for surgery
The £1m for diabetes will go towards improving self-management of the condition through structured education programmes
The £1m for end-of-life care will be focused on hospices at home
£1.2m of the £2m for neurological and stroke care will be invested in neuro-rehabilitation services, helping to maximise people's independence
Part of the £1m for respiratory conditions will go towards reducing the variation in prescribing
The £1m allocated to mental health will form part of a previously announced £3m package to improve access to evidence-based psychological therapies and talking treatments
Mr Gething said: "These plans are making a real difference for people in Wales.
"More people are surviving cancer than ever before, despite significant increases in incidence - 96% of people with cancer rate their care as excellent, very good or good.
"We are making similar progress with our other delivery plans - survival from heart disease and stroke has improved; the number of people dying from stroke has fallen by 1,000 a year; and the number of emergency admissions for stroke, heart disease and diabetes is also falling, demonstrating better management of the conditions in the community.
"I want the health service to use this funding to maintain focus on these key plans and deliver even more improvements in patient care and outcomes."