Labour turns to Skates for assembly election manifesto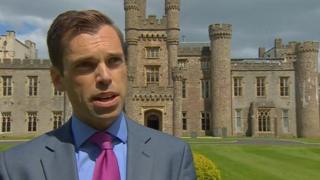 Labour has asked the AM Ken Skates to write its 2016 assembly election manifesto, the BBC understands.
Mr Skates was elected AM for Clwyd South at the 2011 assembly poll.
He was appointed deputy minister for culture, sport and tourism in 2014, having previously served as deputy minister for skills and technology.
A Labour source said the party realised a "fresh, open and honest approach" to the assembly poll was needed after a "difficult general election".
In May, Labour had its second worst share of the votes in Wales since 1918, while the Conservatives enjoyed their best performance in more than three decades.
The Labour source said: "Ken is the natural choice - he's bursting with energy and ideas and he's a great communicator.
"The party realise it is important to have a fresh, open and honest approach after a difficult general election, and Ken will give you that in spades.
"People inside and outside the party will love working with him."
Before becoming an AM Mr Skates worked as a journalist at the Wrexham Leader newspaper and at BBC Wales.