EU turn if you want to: everyone claims victory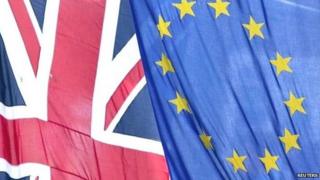 Success, as someone once said, has many fathers. Failure is an orphan.
So the decision not to hold the EU referendum on the same day as next year's devolved elections is being claimed as a victory by those who warned of the dangers of a clash.
Shadow Welsh Secretary Owen Smith said the prime minister had bowed to Labour pressure: "This change of heart from the Prime Minister amounts to a rare show of respect for Wales and Scotland.
"It is a shame that he had to be forced into it when so many people were concerned about the referendum being held on the same day as the Assembly elections, but in bowing to pressure from Labour he has now made the right decision."
Plaid Cymru's Hywel Williams said: "This is a victory for Plaid Cymru and others who have made the clear and convincing case in favour of this outcome.
"The decision to hold these polls on separate days is good news for democracy and debate. It would also avoid the absurdity of EU citizens who can vote in the Assembly elections being turned away from the polling booths half way through doing their democratic duty."
That didn't impress Tory MP Glyn Davies, who tweeted: "Thought I heard leading Plaid AM, Lord Elis-Thomas spoken supportively of EU Ref and assembly election on same day."
Wales's only Lib Dem MP, Mark Williams, welcomed the decision. "Indeed, the early day motion I tabled on the issue received cross party support, as did the motion tabled by my Welsh Liberal Democrat colleagues in the assembly."
'Unhealthily'
Welsh Secretary Stephen Crabb had previously warned: "A vote on the same day as the Scottish and Welsh elections in 2016 isn't ideal; I think it would blur those elections unhealthily and we do need the time for the negotiation to happen and for the political debate to happen too."
Mr Crabb is not among those claiming victory today. After all, the Wales Office was keen to point out last week (when the prime minister insisted that voters could make two different decisions on the same day) that no decisions had been taken and that the UK government had a mandate. Today, it is referring all calls to Downing Street.
Perhaps it was the National Assembly Presiding Officer Rosemary Butler "wot won it". Or First Minister Carwyn Jones, who will have his chance to claim victory during First Minister's Questions in Cardiff today.
But as Allegra Stratton and James Clayton suggest here, it may be more of a victory for eurosceptic Tory MPs who feared a rush to an early poll could benefit the "yes" campaign which might also gain from a double vote in nations widely thought to be more pro-EU.
The amendment tabled by Foreign Secretary Philip Hammond reads: "Clause 1, page 1, line 8, at end insert "and must not be 5 May 2016."