Miners' strike Orgreave inquiry refusal 'shameful'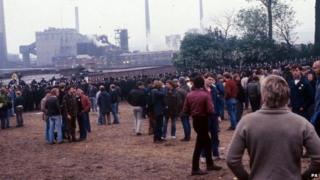 An AM who represented striking miners on trial for the so-called "Battle of Orgreave" has condemned the refusal to hold an inquiry into police behaviour.
Pontypridd AM Mick Antoniw was a solicitor for some of the 90 miners charged over the clash in June 1984.
Their trial collapsed when police evidence was deemed unreliable.
The AM said it was "shameful" for the Independent Police Complaints Commission (IPCC) to say too much time had passed to pursue the allegations.
Around 10,000 strikers and 5,000 police were involved in one of the most notorious incidents of the year-long dispute at a coking plant near Rotherham, south Yorkshire.
'Excessive force'
South Yorkshire Police referred itself to the IPCC after a BBC documentary in 2012 claimed officers may have colluded in writing court statements.
The force also faced claims officers had used "excessive force" and gave false evidence in court.
IPCC deputy chair Sarah Green said: "These are events from more than 30 years ago, and I have considered the impact such a passage of time could have on an IPCC investigation and possible outcomes.
"In addition, because the miners arrested at Orgreave were acquitted or no evidence offered, there are no miscarriages of justice due to alleged police failures for the IPCC to investigate.
"Allegations of offences amounting to minor assaults could not be prosecuted due to the passage of time; and as many of the police officers involved in events at Orgreave are retired, no disciplinary action could be pursued."
Mr Antoniw, who represented three striking miners from Wales arrested at Orgreave, said: "I feel the decision not to pursue this matter to a proper inquiry is shameful."
"The attack on the miners was a politically planned event," he added.
"There was a major injustice and, even after all these years, there are Welsh miners who were injured and are entitled to answers as to what happened, why, and who was responsible," he said.