'No oversight' of failed Genesis back-to-work scheme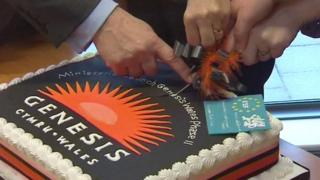 A back-to-work scheme that failed to hit targets suffered from "strategic misalignment" and "a general lack of oversight", a report has said.
It found the Genesis Wales 2 (GW2) project was still not properly overseen two years after its 2008 launch.
In 2013 the Welsh government announced the closure of the project, which was backed by £36m of public money.
Despite hopes that 20,000 people would be helped, BBC Wales revealed fewer than 800 jobs had been created by 2012.
The scheme offered mentoring, help with childcare, and assistance for people to attend training courses and interviews.
'First steps'
An evaluation, ordered by the Welsh government, said there was "strategic misalignment" in that GW2 failed to pursue its goal of getting people into jobs, rather than just remove barriers to work as the previous Genesis Wales project did.
It also found: "The governance structure was still not fully operational two years in and monitoring was patchy."
The recession was also highlighted as a factor, and the introduction of the UK government's Work Programme in 2011.
"This effectively limited the potential client group for GW2, resulting in the programme having to work with a more challenging client group who were further from the labour market," it says.
However, the report says the project "could be considered successful as an engagement project" that helped people take their first steps towards the world of work.
"The majority of GW2 participants had no recent work history; many were not looking for work prior to starting on the programme and were facing multiple barriers to employment," the report adds.