Party leaders rule out being dual election candidates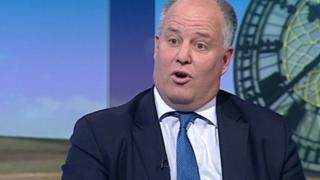 Two Welsh party leaders have ruled out standing for both constituencies and regions in the 2016 assembly election.
Conservative leader and South Wales Central regional AM Andrew RT Davies said he would not also run to represent the Vale of Glamorgan constituency.
Liberal Democrat leader Kirsty Williams confirmed she would only stand in her Brecon and Radnorshire seat.
Plaid Cymru leader Leanne Wood said last week she would run in both a constituency and a region.
It means that if Ms Wood fails to win Rhondda she is still likely to be elected via the regional list to continue representing South Wales Central.
Candidates are no longer banned from standing in both types of seat.
In his weekly briefing for journalists on Tuesday, Andrew RT Davies said: "I am a regional member here at the assembly and I will not be seeking any parachute via a second option."
Welsh Liberal Democrat leader Kirsty Williams later confirmed she would only be standing in her Brecon and Radnorshire constituency, and would not put her name forward for the party's regional list.
Of the 60 assembly members, 40 represent constituency seats and 20 are elected from five regional lists.
Regional AMs are elected via lists of candidates submitted by political parties, in a system designed to ensure the overall number of AMs elected from each party matches their level of support from voters more closely.
If a politician wins a constituency seat, they are removed from the regional list during the counting process.