Lord Dafydd Elis-Thomas breaks party ranks on EU referendum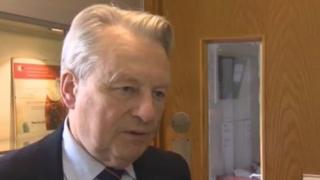 A Plaid Cymru AM has broken ranks with his party leader over the timing of the EU referendum.
Lord Dafydd Elis-Thomas told BBC Sunday Politics Wales holding the referendum on the same day as next year's assembly election could boost turnout.
It puts him at odds with Plaid leader Leanne Wood and the first minister who say the referendum must not clash with devolved elections in May 2016.
David Cameron has pledged to have an in/out referendum by the end of 2017.
Foreign Secretary Philip Hammond said on Sunday the referendum will be held "as soon as we are ready" with the "back stop" date of 2017.
But there has been speculation it could happen earlier.
Former presiding officer Lord Elis-Thomas said: "I quite frankly have no objection to it being held at the same time as other elections.
"It makes a lot of sense because then you would get better turnout for both. There are fears about UKIP, but bring them on I say."
Labour AM Mike Hedges said the votes should take place separately, adding "we want people to concentrate on what's happening in Wales".