Peter Hain calls for new Labour anti-austerity approach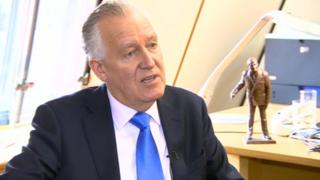 Labour needs to find a new approach that presents an alternative to austerity, according to Peter Hain.
He said the party lost the election on the economy and none of the candidates to replace Ed Miliband as leader have attempted to deal with the issue.
Without an alternative to austerity, the former Neath MP said Labour offers "nothing different to the Tories".
He said the party agenda on which candidates fought during the general election campaign was "not compelling".
'Devastating'
Mr Hain, a former cabinet minister, told BBC Radio Wales' Sunday Supplement that the party failed to defend its record on the economy during the campaign.
He said that it oversaw 10 years of growth in government from 1997 and should have defended this record rather than let other parties highlight problems that followed the banking crisis.
"Austerity is not needed, it has been devastating in Greece," he said, calling on Labour to find a "rigorous, prudent, balancing-the-books approach", that provides an alternative.