Tens of millions of pounds cuts warning from ministers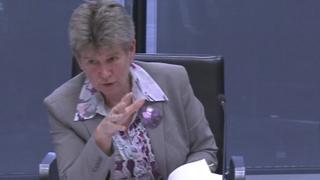 UK government spending cuts of £3bn could leave Welsh ministers with "tens of millions" of pounds less this year, Finance Minister Jane Hutt has warned.
The cuts come ahead of further reductions to be announced in July.
Commenting on Twitter, Ms Hutt said: "Unbelievable that only yesterday the PM called for Wales to spend more on health, and today the chancellor slashes our budget again."
The Treasury said devolved governments can defer the savings until next year.
Ms Hutt said the cuts were "certainly bad news for Wales" though there was "no clarity" from the Treasury on the "final numbers".
"Likely to be tens of millions," she added.
But Welsh Secretary Stephen Crabb insisted "tough decisions" were essential to "get the public finances back on track and secure the economic recovery".
"This settlement is fair and allows us to keep up the momentum on sustained growth across Wales," he added.
Earlier, Chancellor George Osborne told MPs: "That is how you deliver lasting economic security for working people."