Discount to buy council home is to be cut by 50%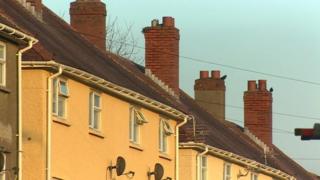 Plans making it more difficult for council tenants to buy their homes are to be implemented by Welsh ministers.
In January, Housing Minister Lesley Griffiths said the right-to-buy scheme would be scrapped in Wales if Labour wins the 2016 assembly election.
On Wednesday, she confirmed the maximum discount for people buying their council house would be cut by 50% to £8,000, after a consultation.
Work on legislation to scrap the right-to-buy scheme has also begun.
The Welsh government said immediate action was being taken to cut the discount "this summer".
'Senseless'
Ms Griffiths said the moves would "go some way towards easing the pressure on our housing supply and protecting our social housing stock".
The Welsh Conservatives called it a "senseless" strategy that "flies in the face of aspiration and ambition".
Shadow Housing Minister Mark Isherwood said: "It will limit supply and deny people in council properties the choice and power to buy their home."
In England, David Cameron's new Tory government has announced plans to extend right-to-buy to housing association tenants.