Budget 2015: Swansea tidal lagoon negotiations 'opening'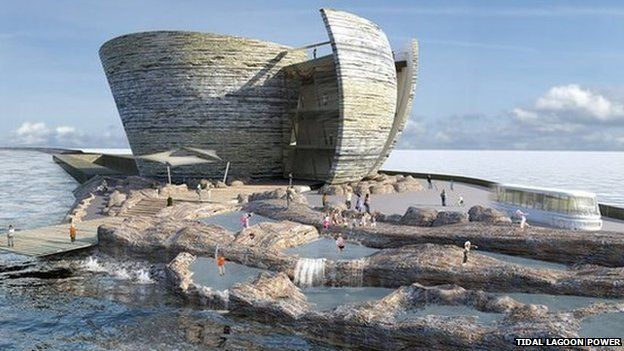 Chancellor George Osborne has said negotiations are opening on a £1bn tidal lagoon scheme in Swansea, in his Budget speech in the House of Commons.
The plan would see a giant man-made lagoon generating power to run 120,000 homes for 120 years.
Talks will focus on the amount of subsidy the scheme will get from a guaranteed price for its power.
In December, Energy Secretary Ed Davey announced "in-depth discussions" on the project had started.
'Fantastic' opportunities
Following confirmation on Wednesday that commercial negotiations had begun, Mr Davey said: "Tidal lagoons could provide 8% of our electricity needs, replacing foreign fossil fuels with clean, reliable home-grown electricity and creating fantastic economic opportunities."
His department said the negotiations would establish whether a guaranteed price for power generated by the lagoon would be "affordable and value for money", adding that the project was still subject to a planning decision.
It would capture incoming and outgoing tides behind a giant sea wall and use the weight of the water to power turbines.
The cost of generating power from the Swansea project will be very high, but the firm behind the plan says five subsequent lagoons it hopes to build will be able to produce electricity much more cheaply.
The other proposed lagoon sites are in Cardiff, Newport, and Colwyn Bay in Wales; Bridgwater in Somerset; and West Cumbria.
Analysis by Iolo ap Dafydd, BBC Wales environment correspondent
Swansea Bay's tidal lagoon is seen as a first of its kind - a concept to draw power for electricity from the ebb and flow of the tide.
That could lead to construction jobs, but crucially a new assembly plant in south Wales for undersea turbines which would be placed in Swansea, and the much larger lagoons in future which are planned for the Severn Estuary and north Wales.
The UK government's support is significant, and the chancellor has confirmed in his Budget speech that negotiations have opened with Tidal Lagoon Power Ltd.
The company is asking for £168 per megawatt hour of energy, for 35 years. That's far higher than what the UK government agreed to pay developers of a new nuclear reactor at Hinckley. That "strike price" is £92.50.
However, anticipating the calls for cheaper energy, with less taxpayer subsidy, the developers have said they estimate that bigger energy lagoons near Cardiff and Newport would need government support of around £90-£95 per megawatt hour of energy.
They argue it is a price worth paying - as a new source of clean energy comes online within 10-12 years, it will lead to thousands of manufacturing, building and construction jobs.
It could see Britain building the world's first man made tidal energy lagoons that could be operational for up to 120 years.
Related Internet Links
The BBC is not responsible for the content of external sites.