Worst ever prime minister's questions, says Welsh MP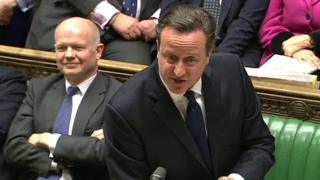 David Cameron has defended Prime Minister's Questions after a Welsh Labour MP criticised Wednesday's session as the "worst ever".
Newport West MP Paul Flynn said Mr Cameron's answers "had no connection" to questions from the Labour leader.
Mr Flynn called for the "demeaning spectacle" to be abolished, if it could not be improved.
Earlier, the prime minister said the exchange between him and Ed Miliband had been "robust".
Mr Cameron said: "There are always ways, I'm sure, we can improve Prime Minister's Questions.
"But I would say it does have an important function, which is it does make sure we have accountable government in our country and people can ask the prime minister anything they want."