St David's Day celebrations continue at Westminster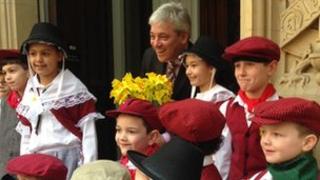 St David's Day is a long time in Welsh politics. It may be March 3, but Speaker John Bercow was delighted to take delivery of a bunch of daffodils from children at the London Welsh School.
The pupils sang a couple of songs at the door of Speaker's House and were praised by Mr Bercow for their "lusty" rendition. He also offered them some advice on how to use their diaphragm (while admitting "I can't sing").
They also performed at the traditional St David's Day service in the Chapel of St Mary Undercroft in the House of Commons.
Welsh Secretary Stephen Crabb read St John 12: 20-26 ("Among those who went up to worship at the festival were some Greeks") and Lord Griffiths of Burry Port gave the sermon. Lib Dem MP Jenny Willot read from Rhigyfarch's Life of St David.
St David's Day at Westminster tends to be more of a week than a day, with David Cameron hosting a reception in Downing Street last night
(read his speech here and my radio report via audioboom here) and MPs due to debate Welsh affairs on Thursday.