David Cameron says Tories are 'the party of Wales'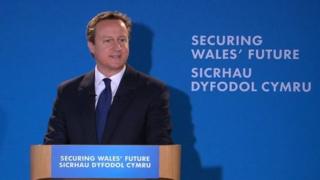 The Conservatives are "the party of Wales", doing more for the nation than its rivals, the prime minister has told the Welsh Tory conference in Cardiff.
David Cameron said the Conservatives were the "driving force" behind road and rail improvements.
He hailed Wales' manufacturing success, saying it was growing faster than France, Germany and other UK regions.
Mr Cameron said his party had turned the economy around and was delivering "real devolution" to Wales.
Earlier, he announced plans to give powers over assembly elections, fracking and other energy projects to Cardiff Bay.
'Day of reckoning'
In the afternoon session on Friday, Shadow Health Minister Darren Millar ruled out the Conservatives taking part in a cross-party commission on the future of the Welsh NHS.
Mr Millar said a commission - backed by other parties to reduce political tensions over health - would be "too long and drawn out", claiming a public inquiry would be a better.
He also said the party favoured trialling a system of fines for people who miss NHS appointments.
Welsh Secretary Stephen Crabb attacked Welsh Labour ministers for "sheer complacency and lack of urgency about standards in vital public services".
He accused Labour of "patronising" people, of being a party that "took whole communities for granted".
"Labour has turned its back on Wales, and for that there is a day of reckoning approaching," Mr Crabb warned, referring to the general election in May.