Few believe in Wales' EU benefits, a new survey finds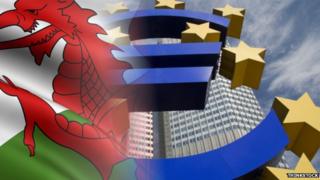 Only 17% of people in Wales think the country gets more out of the EU than the rest of Britain, a new survey says.
It comes despite billions of pounds in economic aid from Brussels over the past 15 years.
But the study by Cardiff University's Wales Governance Centre also found more voters wanted to stay within the EU than wanted to leave.
Wales has qualified for aid from Brussels since 2000 because of its low GDP.
Between 2014 and 2020 it will receive £2.1bn.
Professor Roger Scully of Cardiff University said: "Wales sits slightly uneasily in the middle on the EU, between an England tending towards scepticism and a Scotland that polls normally show is rather more positive about Europe.
"Something that must concern supporters of the EU is that a great many people in Wales do not seem to have much sense of any benefits that Wales draws from being part of an EU member-country. Years of EU funding for Wales have not, apparently, had much of an impression on many of the Welsh people."