Greens accuse Plaid Cymru of 'harassment' over election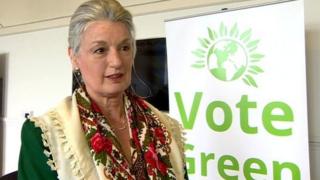 Welsh Greens have accused Plaid Cymru members of harassing them on social media despite talk of working together.
It comes after Wales Green Party leader Pippa Bartolotti said she met Plaid leader Leanne Wood to discuss tactics against Labour and was asked to 'stand down' in Lib Dem-held Ceredigion.
Ms Bartolotti said Plaid would rather the Greens "get lost" than come up with a "reasonable plan" to work together.
Plaid Cymru said it did not "recognise the comments made".
The Greens and Plaid Cymru have pledged to join forces at Westminster in an anti-austerity alliance with the Scottish Nationalists if there is a hung parliament after May's general election.
But in Wales the Greens have rejected suggestions that they should stand down in Plaid Cymru's target seats.
'Surge'
Ms Bartolotti said she met Ms Wood to discuss "a long-term proposal" to "break the back of the Labour vote in Wales to our obvious mutual benefit".
Writing on her party's website, the Welsh Green leader said: "Leanne's last words to us were, and this is pretty much the direct quote: 'You stand down in Ceredigion, and we'll see if there is something we can do after that.'"
She added that following a "surge" in Green membership and increased media coverage, "the harassment and online bulling from certain Plaid Cymru members has increased".
"If Plaid truly wanted to work with us they could have at any time come up with a reasonable plan, but from the leadership down the only thing we can detect is 'Greens get lost'," Ms Bartolotti said.
A Plaid spokesman said: "We don't recognise the comments made, but from what we have seen on social media and on the streets throughout the country, it seems many people concerned with environmental and traditional green politics will be backing Plaid Cymru in May."