PM considers 'injustice' of disabled man losing his car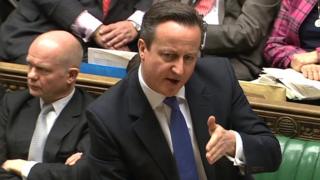 The prime minister has agreed to look into the case of a severely disabled man from south Wales who faces losing his car under welfare payment changes.
Mark Francis, of Resolven, near Neath, will have a car supplied under the Motability scheme taken away in two weeks after changes to the regulations.
His MP, Peter Hain, asked David Cameron to intervene in what he called "a heartless and disgraceful injustice".
Mr Cameron said he would "happily look at the case".
During Prime Minister's Questions on Wednesday, Mr Hain said the car was being removed "punitively and callously" by the Department for Work and Pensions (DWP).
Mr Cameron replied: "I'm very happy to look at the individual case that you raise. Of course, with the replacement of the Disability Living Allowance with the Personal Independence Payments actually most disabled people will be getting more money and more assistance rather than less, but I will happily look at the case."
Mr Hain, a former work and pensions secretary, said Mr Francis has been told he is no longer eligible for the higher level of Motability payments.
He added: "This is systematic of the DWP under this government, unable to fully think through its regulations.
"Despite having launched an appeal against the decisions made against him, he's still having his car taken away - badly hampering his quality of life."