Cancer cases rise for men and women, report shows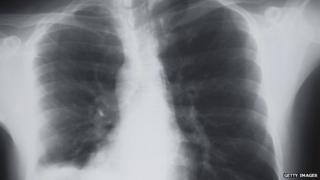 The number of cancer cases in Wales continues to increase for both men and women, the latest figures show.
About 19,000 cases were diagnosed in 2013 - 12% more than in 2004 according to Public Health Wales (PHW) .
The largest rises were in the most common cancers - lung, breast, prostate and bowel cancer.
The statistics were released as the charity Tenovus Cancer Care called for more help for smokers to quit as it marked World Cancer Day.
The charity said only around a fifth of pharmacies in Wales offered free one-to-one 12 week programmes to smokers wanting to quit the habit.
One in two people in the UK will be diagnosed with cancer at some point in their lives, analysis suggests.
Cancer Research UK said this estimate, using a new calculation method, replaced a forecast of more than one in three people developing the disease.
Meanwhile, hospitals across Wales are considering on-the-spot fines for people smoking on site and near entrance ways.
Some hospitals have already employed people to guide smokers off hospital grounds, in a bid to tackle the issue.
Cancer 'challenges'
PHW's report was compiled by its Welsh Cancer Intelligence and Surveillance Unit, and the latest official statistics back the findings of a report by the unit in January.
It found that almost all the rise in lung cancer cases were amongst women, with diagnoses up more than a third between 2003 and 2012.
The highest number of all cancer cases was in Merthyr Tydfil, 20% more than in Ceredigion, which had the lowest number.
A Welsh government spokesman said the research "challenges us to focus activity to drive down the variation in survival and incidence between different cancer types and areas".