Wales NHS to offer leukaemia cancer drug ponatinib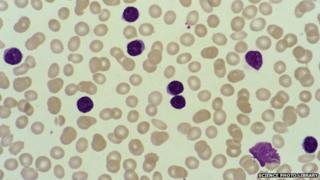 Leukaemia patients in Wales will be given the chance to get a new cancer drug free on the NHS.
Ponatinib - also known as Iclusig - will be offered if other drugs fail.
No other part of the UK makes the drug routinely available for patients with all forms of chronic myeloid leukaemia (CML) and acute lymphoblastic leukaemia, the Welsh government said.
Health Minister Mark Drakeford said Wales had a "robust system" in place to make effective treatments available.
The drug is available on the NHS in England but only for patients with a particular form of CML.
Approval was given after a recommendation from the All Wales Medicines Strategy Group.
A spokesperson for Leukaemia and Lymphoma Research said that while most patients would not need the drug, it was welcome as an "extra safety net" for those who find other drugs do not work.