Overseas office spending by Welsh government questioned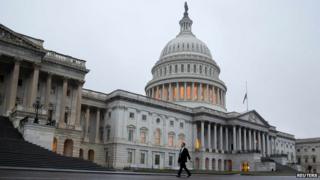 A jump in spending by overseas offices run by the Welsh government has prompted questions from the Tories.
The Conservatives have asked why annual spending on 14 premises rose from just over £700,000 in November 2013 to nearly £2.5m by April 2014.
They also claimed the Washington office was much more expensive than others in terms of business leads generated.
The Welsh government said building up the offices had helped boost inward investment.
'Value for money'
Figures obtained by the Welsh Conservatives under Freedom of Information legislation show an increase in costs at a number of offices.
Brussels saw annual spending rise from nearly £311,000 as of November 2013 to over £936,000 by April 2014
Chongqing in China saw costs rise from £25,100 to £175,000
In New York spending rose from £72,000 to over £250,000
The Tories also asked why the Washington office had spent nearly £170,000 since opening in November 2012 and generated 13 leads while the San Francisco office which opened in April 2013 had generated 28 leads while spending less than £58,000.
Shadow Business Minister William Graham said: "A Welsh government presence abroad is hugely significant to the future of inward investment but it must be hugely effective and it has to be value for public money."
The Welsh government said it had sought to "rebuild and increase our presence overseas" as part of a "joined up approach" to attracting investment.
A spokesperson said: "Inward investment is at its highest for 30 years, while in the period since devolution Wales has experienced the largest increase in exports of any other part of the UK."