Local Government Bill paves way for council mergers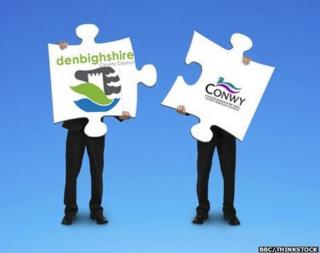 A bill paving the way for voluntary mergers of councils in Wales has been published by the Welsh government.
It sets out the terms under which authorities can seek to join forces.
Public Services Minister Leighton Andrews said he wanted the merger process to be as "smooth, constructive and productive as possible".
The Williams Commission called for the 22 councils to be cut by around half. Six have put forward merger plans and are awaiting the minister's decision.
The councils who have proposed a link-up are:
Blaenau Gwent and Torfaen
Bridgend and the Vale of Glamorgan
Conwy and Denbighshire
Mr Andrews said in December he would respond to the suggested voluntary mergers early in the new year.
He has also said that some people in his party would like to see the number of Welsh councils cut to as few as six.