Wales 'lost out' to London and south east England under Labour, says Crabb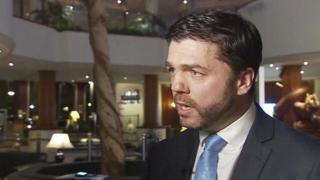 Wales lost out as London and the south east of England "sucked in talent and investment" in the early 2000s, the Welsh Secretary is expected to say.
Stephen Crabb will contrast UK ministers' support for Welsh rail and M4 improvements with the previous "economic illusion" under Labour.
Mr Crabb is giving a speech to business leaders in Cardiff on Wednesday.
Labour said further Conservative policies at Westminster would mean Wales would continue to "slip behind".
The speech comes in the week intensive general election campaigning began in other parts of the UK, with Conservatives focusing on the economy.
Mr Crabb will argue former Labour ministers' economic strategies over-relied on the City of London and the financial sector, at the expense of other parts of the UK.
"Wales was one of the biggest victims of the last government's economic illusion," he will argue.
'Trickle down'
Mr Crabb will say technology and innovation are key to economic success.
"Long-term doesn't mean talking about the same project for decades, but setting an ambitious and deliverable plan.
"Our deals on the M4 and rail electrification show we are a government that understands this and wants Wales to get its fair share."
But Shadow Welsh Secretary Owen Smith said Conservative policies would "never see wealth 'trickle down' to us, instead Wales and other ex-industrial areas will continue to slip behind London and the southeast".
"What the Welsh economy needs is a Labour government in Westminster to truly work in partnership with our government here in Wales, not just talk about it," he added.