The year of the voter: What is in store for Wales in 2015?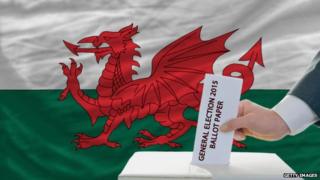 The political year is going to come down to one day - Thursday May 7 to be precise - the date of the general election.
At this stage, the polls are not suggesting that there will be many dramatic changes in the make-up of the 40 Welsh seats.
Currently, 26 are held by Labour, eight by the Conservatives, three by the Liberal Democrats and three by Plaid Cymru.
Two seats in the capital, Cardiff North and Cardiff Central, will come under the spotlight.
Cardiff North is the tightest marginal seat in Wales. The current Conservative MP, Jonathan Evans, has a majority of 194 votes over Labour.
It is an affluent seat which pushes it in the direction of the Tories, but this is counterbalanced by the high proportion of public sector workers who are more likely to support Labour.
As a result we can expect the leafy suburbs of Rhiwbina, Whitchurch and Llanishen to have the kitchen sink thrown at them by the two main parties.
Cardiff Central, now held by the Liberal Democrats, is another that could be tight if the party suffers for being part of a government that has introduced cuts to public services and benefits.
Labour is making a big push in this area, which is heavily populated by students.
In 2010, Labour got 36% of the vote in Wales; Professor Roger Scully, from the Wales Governance Centre at Cardiff University, says it needs to rise above 40% for the party to seriously challenge a series of Conservative-held seats.
Momentum
He said: "There is a sweet spot of around 42% or 43% where, on a uniform swing, they would start to pick up all sorts of seats.
"That would include Carmarthen West and South Pembrokeshire and Aberconwy."
Plaid Cymru will be looking to take advantage of the momentum built up by the Scottish National Party.
One of their main messages is that a vote for Plaid will be critical if they form part of a nationalist block of MPs who could hold the balance of power in the event of a hung parliament.
The Liberal Democrats know that their association with the Conservatives will damage them in the eyes of some.
Their task will be to sell their central claim which is to have acted as a moderating influence on a larger and right-wing partner.
Their three seats: Brecon and Radnorshire, Ceredigion and Cardiff Central will come under pressure from the Conservatives, Plaid and Labour respectively.
The battle between the Conservatives and Labour around the economy and welfare is already taking shape.
In Wales, where dependency on benefits in some constituencies is the highest in Britain, that debate will be at its most fierce.
Two sets of figures will become particularly important mantras for both sides.
UKIP
Welsh Secretary Stephen Crabb has already started quoting a 43,000 reduction in the number of children growing up in workless households in Wales.
In other words, 43,000 fewer children in houses where neither a father or a mother has a job.
This will be used as evidence that the reforms introduced by the Work and Pensions Secretary Iain Duncan Smith are leading to social, as well as economic, change.
One of Labour's favourite figures is £1,600, which is how much they claim working people are worse-off each year under the coalition.
This will be their central argument - the economic recovery is not being felt because of the cost of living crisis.
And in the background lies UKIP.
Most accept the first past the post electoral system will make it difficult for the party to win a seat in Wales, but their biggest impact is likely to be how their votes affect the larger parties in the marginals.
Away from the general election campaign, 2015 should give us a clearer idea of what further powers will be devolved.
St David's Day is the deadline that has been set by Stephen Crabb for all the parties to come to an agreement on what should happen in Wales after the devolution of significant powers to the Scottish Parliament.
On the agenda are consent for major energy projects, criminal justice, policing and control of elections.
But when it comes to devolution, the main point of discussion will inevitably be about funding.
The assembly has the power to hold a referendum on whether to gain some control of income tax.
First Minister Carwyn Jones says he believes that should happen, but only if he receives a better financial settlement from Westminster.
This is currently unresolved. The next 12 months should give us an answer either way.
And 2015 should also be a big year for local government in Wales.
Minister for Public Services, Leighton Andrews, will set out his vision for the reorganisation of councils from the existing 22.
There has already been extensive debate on this issue in 2014 with little agreement, so 2015 could be the year that a consensus starts to form on a new structure of local government which will have implications for years to come.