Carwyn Jones confident over Welsh independence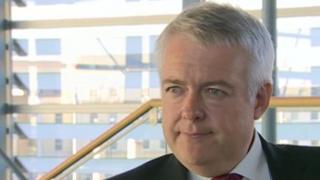 The Welsh public have the right to decide what powers they want and what powers the UK should have, Carwyn Jones said.
But the first minister believes they would not want to become an independent country and he would not back the idea.
It comes amid a continuing debate on devolution and the future of the United Kingdom.
Scotland voted against independence in September but since then there has been talk of more devolved powers.
Mr Jones has previously called to be offered the same devolved powers as Scotland, accusing UK ministers of having a "piecemeal approach" to devolution, following publication of the Smith Commission's report.
The report said the Scottish Parliament should control income tax rates and bands, air passenger duty and Scottish elections.
Mr Jones called for control of assembly elections and air passenger duty to also be devolved to Wales.
And he added that devolving income tax should not be considered until Wales got a better financial deal from Westminster.
Speaking to BBC Radio Wales' Sunday Supplement programme, Mr Jones said: "We know there is a right of secession from the UK, (but) the people of Wales don't want that, and I'm pretty sure that of that - they want to remain part of the UK.
"If you look at the Irish Free state and its establishment in the 1920, that power was there. Scotland was offered the chance to leave. It didn't, thankfully.
"There is an offer for the people of Wales theoretically, although I am confident - and nor would I ever support the idea of Wales being an independent country - we are quite happy being a strong nation with a strong identity as part of the UK framework.
"But we are not there in terms of the UK framework.