Stephen Crabb says Ed Miliband does not care about Wales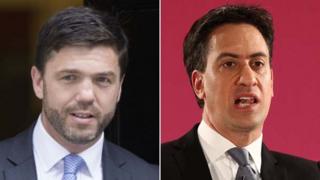 Labour leader Ed Miliband "doesn't give a toss about Wales", the Welsh Secretary Stephen Crabb has said.
The Preseli Pembrokeshire MP said Mr Miliband epitomises "everything that's wrong" with the modern Labour Party.
Mr Crabb told the Western Mail that his leader, David Cameron, has shown commitment to Wales.
But Shadow Welsh Secretary Owen Smith said Miliband is "absolutely focused on the most important issue affecting Wales... the cost-of-living crisis".
Mr Crabb said bringing the Nato summit to Newport and a deal to electrify the valleys rail network shows that the Conservatives are committed to helping Wales.
'Particularly amusing'
"You contrast that with Ed Miliband ... the guy doesn't give a toss about Wales," he said.
"How many times have you seen Ed Miliband standing shoulder to shoulder with Carwyn Jones this year, speaking up for Wales? He hasn't shown any interest in Wales."
But Mr Smith defended his leader.
He said: "Coming from a man who has the loneliest job in politics - a Tory secretary of state for Labour-voting Wales - these comments are particularly amusing.
"Perhaps this is the pressures of the new job beginning to show, so I hope he enjoys his much-needed Christmas break."