Christmas cheer?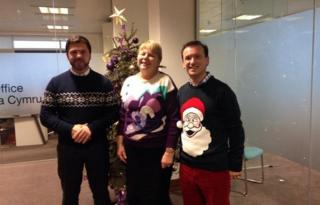 The Welsh Secretary and his ministers may have been donning their festive jumpers but there wasn't much goodwill towards Carwyn Jones when they spoke to reporters for their end of year briefing.
Let's start with Wales' under-funding. The economist Gerry Holtham wrote a report in 2010 saying that the Welsh government was short-changed by £300m.
There are a variety of figures now bandied around. As well as £300m which is the most popular, the shadow Welsh Secretary Owen Smith talks about half that, Plaid says it is £1.2bn while the Wales Office now says it is zero.
I'm told the treasury is working on a new assessment which will be published by St David's Day, which will be a significant day in the political calendar next year (more on this later).
Stephen Crabb rounded on the First Minister, accusing him of using the alleged under-funding as a smokescreen.
He said:"But even if you took the £300m figure as given, what percentage of the Welsh budget are you actually talking about there?
Tiny sliver
"Are we honestly saying that this tiny sliver is the thing that is responsible for the Welsh government's under-performance of public services and the reason for them to block the devolution of income tax."
Some may argue about his description of £300m as a tiny sliver but it is a small percentage of the Welsh government's annual budget of £15bn.
That said, colleagues tell me Mr Crabb was unhappy with the description of the £70m given to Wales in the Autumn statement for health as a "drop in the ocean", but as we all know you can take a statistic in lots of different ways.
The Welsh Secretary also laid into Welsh Labour's handling of the debate. In a clear reference to the different tone on devolution that's often struck between Owen Smith and Carwyn Jones, he said: "They say one thing in Cardiff but completely the opposite up in London particularly on devolution and Welsh Labour need to make up their mind."
On the issue of a funding shortfall, Alun Cairns, went further by saying that it protected Wales at a time when there are further public spending cuts on the horizon.
So rather than play about with it, he suggested the current funding arrangement could leave Wales in profit so it was better to stick with what is there now.
Fig leaf
And finally Jenny Randerson said the latest Treasury figures she'd seen suggested the situation was nothing like as bad as had been described.
She said the Welsh government was using it as a fig leaf to cover their failings.
There's been a robust defence from Welsh Labour.
A spokesman said: "The Secretary of State is completely alone in saying Wales is funded fairly, it is not.
"We will never accept a settlement for Wales that locks in unfairness.
"People will be confused as to why their Secretary of State is no longer fighting Wales' corner around the cabinet table."
So after a five month period in which relations between the Wales office and the Welsh government had improved markedly, things may be about to change.
In fact Stephen Crabb is going to kick 2015 off with what looks like being a highly political speech about the choices people in Wales face at the general election on the economy.
St David's Day
Wales office ministers are saying they have three months left as a team before the general election campaign kicks off properly, but that may be unrealistic.
When it comes to constitutional change, the big date next year will be St David's Day which is the deadline that has been set for all of the parties to come together to try to reach agreement on the next stage of devolution.
Are the latest comments preparing the ground for little or no extra money from the Treasury on that date? It's obviously too early to tell but if the figures are showing no under-funding then it's difficult to see more cash from Whitehall.
One thing Stephen Crabb and Carwyn Jones do agree on is the need for a referendum on the devolution of income tax.
Echoing the words of the First Minister, the Welsh Secretary said on balance one is needed.
Income tax devolution must surely be a difficult sell for the Conservative leadership to their grassroots in Wales.
Conservatives believe in lower taxes so the logic would be that they're more likely to get that from Westminster where there's the chance of a Conservative Chancellor unlike in Wales where there's little chance of a Conservative Finance Minister in future.
What the Tory leadership in Wales is banking on is that the competing desire to have greater financial accountability at the assembly will overcome any reluctance to see control over income tax leave the Treasury in London.