Poll tax: Earlier launch in Wales was considered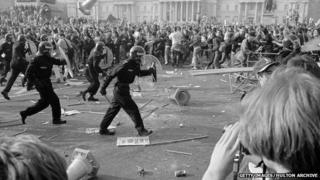 Margaret Thatcher's ministers considered launching the controversial poll tax in Wales before England, according to files just released.
Officially called the community charge, it replaced domestic rates as a way of funding local government in both nations in 1990, a year after Scotland.
Ministers in 1985 had considered making the full transition in Wales two years after Scotland and later in England.
The tax was scrapped after protests and a riot in central London in 1990.
Documents released by the National Archives show that before deciding on a flat rate community charge ministers debated making a more gradual transition from a tax based on property to one based on individuals.
'Politically catastrophic'
A cabinet sub-committee meeting in December 1985 discussed whether it would be possible to "make the full transition to the community charge faster in Scotland and Wales, perhaps in 4 years and 6 years respectively".
In the end, the tax was introduced first in Scotland in 1989, and in Wales and England a year later.
Opposition led to a wave of protests across the country and a riot in Trafalgar Square in March 1990.
The controversy helped fuel the unpopularity of the Conservative government whose MPs forced Mrs Thatcher to resign as prime minister in November 1990.
Her successor John Major later replaced the community charge with the largely property-based council tax.
The newly-released documents show that then Chancellor Nigel Lawson had warned that a "flat rate poll tax would be politically unsustainable" and would have an unacceptable impact on some households.
He wrote: "The proposal for the poll tax would be completely unworkable and politically catastrophic.
"A radical reform of the rating system seems a more attractive option."
Mrs Thatcher was warned by her Welsh Secretary that funding cuts would have "most damaging" political effects, according to other files just released.
The documents released by the National Archives also show Conservative government advisers feared a repeat of the 1984-85 miners' strike the following winter.
They also revealed there were plans to hide art treasures in underground tunnels in the Rhydymwyn Valley works, near Mold, if a civil or nuclear emergency arose during the 1980s.