Devolution needs transparency, says Carwyn Jones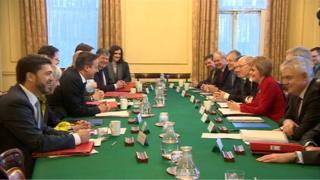 First Minister Carwyn Jones has called on the UK government to be more open about the future of the United Kingdom, and how powers should be shared among the four nations.
It follows David Cameron's meeting with the first ministers for Scotland, Wales and Northern Ireland at Downing Street.
Mr Jones said a continued "piecemeal approach" to devolution was "bad for Wales" and the UK as a whole.
He called for more transparent dealing in an atmosphere of mutual respect.
The first minister said there had been "a serious and useful discussion" at a meeting of the Joint Ministerial Committee on Monday.
"I made clear that the continued piecemeal approach to devolution would be bad for Wales and bad for the UK as a whole," he said.
"There was support from the other devolved administrations on our call for a better, fair and more transparent way of dealing with constitutional issues in the future."
'End cherry-picking'
The prime minister had said "nothing is off the table" in terms of recommendations for further devolution in reports by the Silk and Smith Commissions, Mr Jones added.
"Nobody is interested in pursuing a 'one-size-fits-all' solution to devolution, but what we all want is an end to the cherry-picking and an approach founded on mutual respect between the four nations," he said.
Mr Jones said he also tackled the prime minister on the economy, saying the UK government was not doing enough to make sure people were "feeling the recovery" in terms of pay and the cost of living.
He also said Mr Cameron failed to give any guarantee that the Welsh government would not be forced to privatise public services, or not be stopped from bringing them back under public control.
An official joint statement following the meeting said ministers had agreed to work more closely on counter-terrorism, constitutional change, and the economy.
The meeting came as a report from the University of Ulster warned that UK government ministers and officials were too dominant and structures too loose in relationships with the devolved administrations.