Wales and Whitehall devolution challenge warning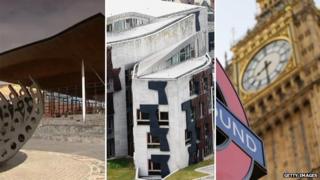 Devolution in Wales and the UK is threatened by the way governments work together, a report has warned.
The report, UK's Changing Union, says London Whitehall officials often overlook devolved administrations.
Author Alan Trench says the working relationships between UK and devolved governments are too unstructured.
The report is published as the Welsh, Scottish and Northern Irish first ministers meet David Cameron later on Monday.
The findings from the University of Ulster professor highlights how disputes between the UK and devolved governments are resolved - but says the process is flawed, with UK ministers in charge of resolving disputes in which they may have an involvement.
Prof Trench recommends some ways to improve governance across the UK:
Disputes resolved by an independent and impartial person or group of persons, not a UK government minister
A forum for all four UK administrations to improve knowledge about politicians and how legislation differs
A devolution committee at Westminster
His comments come as Prime Minister David Cameron meets Welsh First Minister Carwyn Jones and Scottish counterpart Nicola Sturgeon at Downing Street, along with Northern Ireland's First and Deputy First Ministers Peter Robinson and Martin McGuinness.
One key area the joint ministerial committee is expected to focus on is Mr Cameron's push to introduce "English votes for English laws" legislation in Parliament, in the wake of Scotland's independence referendum.
Later on Monday, Ms Sturgeon will meet Plaid Cymru leader Leanne Wood and Green party leader Natalie Bennett at Westminster to discuss possible tactics in the event of a hung parliament following the General Election in May.