Welsh councils urged to cut the number of senior officers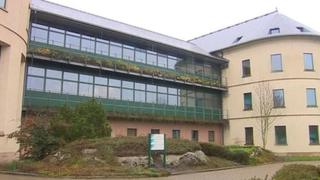 Welsh councils are being urged to cut their number of senior officers, as Pembrokeshire considers scrapping the post of chief executive.
The post has been vacant since Bryn Parry-Jones quit in October, after a row over cash payments he received in lieu of pension contributions.
Local government consultant and former Bridgend council leader Jeff Jones said top management teams must be smaller.
Pembrokeshire's review was "sensible", he said, given the financial situation.
On Thursday, its councillors voted to consider whether to share the chief executive's responsibilities among other executives, as is done in some councils in England.
On Friday, Mr Jones told BBC Wales Pembrokeshire was a "very, very small authority" and someone could "easily" combine the top job with another role.
He said all councils must start looking "very carefully at their senior officer structure, particularly if they've out-sourced services".
"The days are gone of huge senior management teams," he said.
Council cabinets should also be smaller, Mr Jones added.
Mr Parry-Jones was the highest paid council chief executive in Wales with a salary of almost £195,000 plus benefits.
He got a £277,000 severance deal when he quit his job after it was revealed he received cash payments in lieu of pension contributions, which the Wales Audit Office said were unlawful.
Police inquiries into the payments were dropped after no evidence was found of criminal offences.