Carwyn Jones: Highs and lows of five years at the top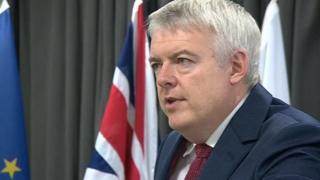 As Carwyn Jones celebrates five years as first minister, we look back at some of his high points, and some of the moments he will not have enjoyed so much.
Winning the race to lead Welsh Labour
In December 2009 Rhodri Morgan stepped down as First Minister and leader of Welsh Labour after nine years. Mr Jones beat cabinet colleague Edwina Hart and backbencher Huw Lewis to succeed him.
A referendum victory
In March 2011 Wales said a resounding Yes in a referendum on giving direct law-making powers to the assembly, with a 63.5% to 36.5% winning margin.
Buying an airport
A Christmas present to the nation? In December 2012 Mr Jones revealed the Welsh government's plan to buy Cardiff Airport following concern over a slump in passenger numbers and fears it would close. The £52m deal was completed in March 2013 but opposition parties have questioned its value for money.
Welcoming the world
The airport saw many of its most important visitors ever in September 2014, as more than 60 heads of state and government gathered in Newport for the Nato summit.
Bottom of the class
Education in Wales has been criticised for falling behind the rest of the UK in reading, maths and science, according to the international Pisa rankings.
Health battles
Labour's record running the NHS in Wales has become a key election battleground with Prime Minister David Cameron claiming Offa's Dyke had become "the line between life and death". The Daily Mail newspaper published reports claiming to expose serious failings, dismissed by Welsh Labour as politically motivated.
Rail electrification back on track
A eight-month row between UK and Welsh ministers over who should pay to electrify the south Wales mainline and Valley lines was settled in November.
Carwyn who?
Despite running Wales for the last five years, just under a third of adults in Wales can name their first minister unprompted, according to research by ICM for the BBC in 2014. However, polls have consistently shown he is still far better known than opposition party leaders.
He is also unafraid to poke fun at himself, as he showed in a job swap with BBC weatherman Derek Brockway in November 2013 for BBC Children in Need.