'Combined authority' plan for 10 south east Wales councils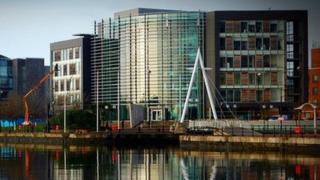 Ten councils have agreed to create a "combined authority" for south east Wales, to deal with major economic, transport and planning issues.
The agreement in principle comes as so called city regions elsewhere in the UK negotiate extra money and new powers from UK ministers.
It is understood the new body could also help win funding for proposals such as a metro-style transport system.
The combined body is not intended to affect plans to merge Welsh councils.
The councils that make up the South East Wales Regional Partnership Board backing the move are:
Blaenau Gwent
Bridgend
Caerphilly
Cardiff
Merthyr Tydfil
Monmouthshire
Newport
Rhondda Cynon Taf
Torfaen
Vale of Glamorgan
The leader of the Welsh Local Government Association, and Torfaen council, Bob Wellington, said the councils' move would not create a "new or extra organisation".
He added: "It will create a clear decision making structure that will allow councils to deliver at a strategic regional level, while also ensuring local communities retain a strong role in shaping their sense of place and the services they receive."
However he told BBC Wales any changes would have to work alongside proposed plans to merge some unitary authorities which are being considered by the Welsh government.
Mr Wellington's authority and Blaenau Gwent have submitted a plan.
He said: "If [the proposal] complements what we want to do by merging, that's fine. If it threatens what we want to do then my authority, and I'm sure some of the other authorities, will reject it."