Flood and coastal defences to get an extra £150m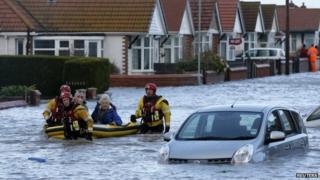 An extra £150m is to be spent boosting flood and coastal defences across Wales.
The Welsh government will spend the money in partnership with local councils from 2018.
It comes on top of the current £245m investment plus £7.2m in repairs after last winter's storms, ministers said.
Natural Resources Minister Carl Sargeant said minimising the effects of flooding and keeping communities safe are "key priorities".
"Our Wellbeing of Future Generations Bill makes it clear that we must plan ahead and work together to ensure the best possible outcomes for our communities," he said.
Finance Minister Jane Hutt added: "Ensuring that we have effective flood and coastal defences is a priority we share with local authorities.
"Few can doubt that our flood defences will continue to be tested by adverse weather events in the future.
"We are responding to that challenge by thinking ahead, being strategic and planning ahead."
Exact details of how the extra funding will be raised and where it will be spent have yet to be revealed.