Call for Scottish-style tax powers with funding reform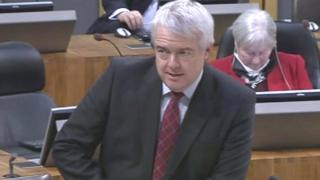 First Minister Carwyn Jones has given his strongest indication yet that he believes income tax should be devolved to Wales.
He said he would welcome tax powers matching those recommended for Scotland by the Smith Commission.
Its report said Scotland's powers should include control of income tax rates and bands.
But Mr Jones said Wales could not consider such plans until the funding formula for Wales was reformed.
The Scottish Parliament could also be given a share of VAT, control of air passenger duty and have powers over housing benefit if the commission's proposals are accepted by the UK government.
Earlier, opposition parties called for more tax powers for Wales, to match those set to be given to Scotland and Northern Ireland.
In the assembly chamber, Mr Jones told AMs that devolution of income tax could not be considered until the Barnett spending formula was dealt with.
'Disadvantage'
The Welsh government maintains it is shortchanged by the formula, used by the Treasury to calculate changes to the Welsh budget and that of the other devolved administrations, to the tune of £300m a year.
"We would accept everything, but of course Barnett," Mr Jones said.
"The Smith Commission says Barnett should stay - we don't accept that at all for Wales' funding situation.
"I'm open to the idea that Wales should be funded in a 'Barnett plus' way, but before that is sorted it would not be sensible for us to take powers over income tax."
Devolving income tax powers without funding reform risked "locking in" Wales' disadvantage, he added.
"I cannot lead the people of Wales off the edge of a cliff without thinking," he said.
The first minister added that it would be "completely unacceptable" for Scotland to get powers over air passenger duty and for Wales not to.
"There's no reason on Earth why that should happen," he said.
Analysis by Nick Servini, BBC Wales political editor
There has been a clear shift in the position of the first minister.
On Thursday when I interviewed him, all he said was that he wanted to be offered the same powers as those included in the Smith Commission for Scotland.
And he refused to give an inch on the devolution of income tax, sticking with his long-held position that he wouldn't even consider it unless more money was on its way from Westminster to Cardiff Bay.
Now, in response to a direct question from Plaid about whether he wanted the powers being offered to Scotland implemented in full in Wales, he said yes.
He's still giving the caveats about a better funding settlement but, as far as I'm aware, this is the first time he has indicated that he believes powers over income tax should be devolved.