Council merger volunteers welcomed by Leighton Andrews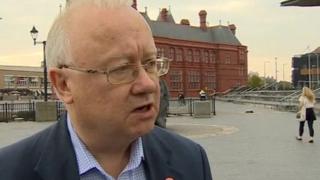 Plans by six Welsh councils to pursue voluntary mergers have been welcomed by the public services minister.
Leighton Andrews said he was "encouraged" by those that had "grasped this opportunity".
Conwy and Denbighshire, Bridgend and the Vale of Glamorgan, and Torfaen and Blaenau Gwent had confirmed merger plans ahead of Friday's deadline.
Swansea and Neath Port Talbot also said they would explore the idea of a merger, the minister added.
'Vanguard'
The Williams Commission recommended cutting the 22 county and county borough councils between 10 and 12, but Mr Andrews has indicated the ultimate target could be as few as six.
"This is a unique opportunity for local authorities to influence the future shape of local government across Wales," he said on Monday.
"I am encouraged by those that have grasped this opportunity.
"By engaging in this process, they recognise the opportunity voluntary mergers offer them to be at the vanguard of shaping the future role of local government in Wales."
Mr Andrews said the Welsh government would respond to the expressions of interest early in the new year.