Clarity call on Well-being of Future Generations Bill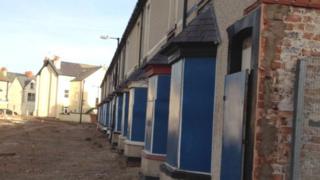 New laws aimed at ensuring joined-up thinking by public bodies need to be rewritten for the sake of clarity and effectiveness, AMs have said.
The Well-being of Future Generations Bill was introduced by the Welsh government in July with the goal of improving the lives of communities.
Sustainable development was not clear as its main point, a committee said.
The language forcing officials to think sustainably should also be strengthened, it added.
The Bill aims to tell public bodies such as councils and health boards to think about the impact of their policies on the long-term well-being of people and their communities.
It will set up regional boards where those authorities will work together with this in mind, and create the post of a Future Generations Commissioner to ensure they do so.
'Meaningful impact'
But many people thought the bill was unclear and the requirements on public bodies too weak to be effective, according to a report by the assembly's environment and sustainability committee.
Terms such as "seeking to achieve" or to "pursue" sustainable development were not thought to be strong enough to make public bodies comply with the aims of the Bill.
Members of the public should also be fully involved in setting the goals, the AMs added.
Alun Ffred Jones, who chairs the committee, said members gave "unanimous support" for the "policy intent" of the Bill, but added that "significant improvements are needed in order for the Bill to have any meaningful impact".
"It would be a great shame if the enthusiasm felt by so many for legislating for sustainable development in Wales did not translate into a Bill that could make a real difference," he said.
"We hope that the minister will listen to the concerns raised in our report and bring forward the amendments we believe to be necessary to ensure that this Bill can fulfil its objectives."
A Welsh government spokesperson said: "We will consider this report and will respond in due course."
The Sustainable Development Alliance of nearly 30 Welsh charities and community groups welcomed the AMs' report.
Spokesperson Haf Elgar said: "If we get this Bill right it could make a real, positive difference to people and the planet."