Torfaen and Blaenau Gwent councils vote to merge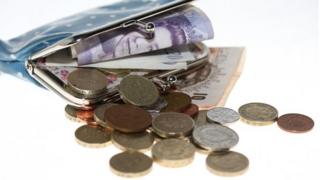 Blaenau Gwent and Torfaen councillors have voted unanimously to merge with each other.
The neighbouring authorities took the decisions at separate special meetings on Tuesday.
Welsh ministers want to cut the number of councils from 22 to as few as 10, urging councils to suggest partnerships before Friday's deadline.
On Monday, Bridgend councillors voted 40-7 to pursue a merger with the Vale of Glamorgan.
'Working together'
Blaenau Gwent council Leader Hedley McCarthy said: "It is now clear that reorganisation of local government is going to happen, be it voluntarily or through legislation.
"Members in Blaenau Gwent recognise this and by looking to voluntarily merge with Torfaen we are in a better position to design and tailor our own transformation, putting the needs of the people who live in our communities and who use our services at the forefront of any decisions."
Torfaen council leader Bob Wellington added: "We have a number of strong, geographical, historical and administrative links with Blaenau Gwent that make them obvious partners for exploring a voluntary merger.
"They have also demonstrated their commitment to working together to explore the potential benefits of a merger.
"However, we have also stressed that our discussions with Blaenau Gwent do not preclude us entering into discussions with any other willing partners."
'First step'
In Bridgend, council leader Mel Nott said its preference for a merger with the Vale of Glamorgan would depend on a "comprehensive business case".
"No final decisions have been made, and a comprehensive business case will need to be agreed which will include extensive consultation, so this is just the first step on a very long ladder," he said.
Vale of Glamorgan leader Neil Moore has also said Bridgend is his preferred merger partner, fearing the Vale would be "swallowed up" by Cardiff.
Such a merger would go against a principle of a key report on council re-organisation published in January.
The Williams Commission recommended new authorities should be within existing health board boundaries, and the two councils come under different boards.
Bridgend is served by Abertawe Bro Morgannwg University Health Board, while the Vale of Glamorgan is covered by Cardiff and Vale University Health Board.
However, Public Services Minister Leighton Andrews has said all merger suggestions would be considered.
Mr Nott has previously said that Bridgend "looks east" towards Cardiff, rather than west to the commission's suggested merger partners of Neath Port Talbot and possibly Swansea.