Welsh council mergers 'could cost £268m', accountants say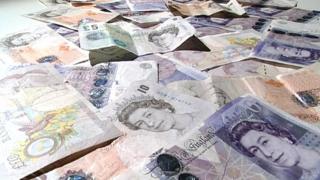 The cost of slashing the number of Welsh councils could be as much as £268m, according to an accountants' report for the local authorities.
Upfront personnel costs - including redundancies - could reach £158m, with £54m on property and systems changes.
However, mergers could ultimately lead to annual savings of up to £65m after the first three years, the report said.
It comes as Wales' 22 councils face a deadline of Friday over voluntary merger talks.
The Williams Commission recommended the number of councils be cut to 10 but Public Services Minister Leighton Andrews has said some Labour members support a cut to as few as six.
Managing risks
The commission estimated the shake-up could save £60m to £80m per year after an upfront £100m cost, while the Welsh Local Government Association (WLGA) put the cost at £200m.
But a report by the Chartered Institute of Public Finance and Accountancy (CIPFA) found the upfront costs of reorganisation could range between £160m and £268m, followed by annual savings of £65m.
The CIPFA report was commissioned by WLGA and societies representing its chief executives and treasurers.
The accountants calculated the potential savings to be made from making duplicate staff redundant and selling surplus buildings, disregarding any changes to frontline services.
It warned there would be significant differences in the costs of mergers for the various authorities, given the differences in spending per head on a range of services.
The effectiveness of newly-merged councils to deliver services would also be tested by any future reductions in government funding to them, the accountants added.
'Significant cost'
CIPFA chief executive Rob Whiteman said: "If council mergers are to deliver for the public, politicians must undertake thorough due diligence and provide a rigorous evidence-base for decision-makers to determine the robustness of the Welsh government's ambitions."
Responding to the report, the Welsh government said the case for change in local government was "compelling and widely accepted".
A spokesman added: "We simply cannot afford to miss this opportunity to change the shape of our councils and to drive funding into improving frontline services.
"There is a significant cost to doing nothing."
The WLGA said it would consider the report findings at a meeting on Friday.
The body's deputy leader and leader of Flintshire council, Aaron Shotton, added: "Over the next three years alone, local government will be absorbing budget shortfalls of around £900m and I hope policy-makers and politicians alike will reflect on this piece of work and begin to address the many questions that arise from it."