Council mergers: 'Reality is dawning', Leighton Andrews says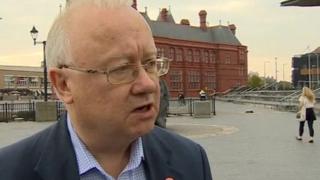 The "reality is dawning" on local councils that mergers will bring a significant and permanent change, the public services minister has said.
Leighton Andrews said he expected more councils to submit ideas for voluntary merger ahead of Friday's deadline.
In January, the Williams Commission recommended the 22 county councils be cut as few as 10.
But Mr Andrews said there are "well known" figures in Labour who think it should be cut to as few as six.
He said: "Certainly my mind isn't closed on these issues, there may well be proposals for larger units than Williams suggested."
So far Conwy and Denbighshire, and Bridgend and Vale of Glamorgan, say they are willing to consider merging.
However, Rhondda Cynon Taf said joining forces with Merthyr Tydfil might not save money.
Partnering up
The Williams Commission suggested the following mergers:
Isle of Anglesey and Gwynedd
Conwy and Denbighshire
Flintshire and Wrexham
Ceredigion and Pembrokeshire (and possibly Carmarthenshire)
Neath Port Talbot and Bridgend (and possibly Swansea)
Rhondda Cynon Taf and Merthyr Tydfil
Cardiff and the Vale of Glamorgan
Blaenau Gwent, Caerphilly and Torfaen
Monmouthshire and Newport
Powys to stand alone, and possibly Carmarthenshire and Swansea
'Parochial interests'
Mr Andrews returned to the Welsh government in September in a new post with a brief to boost efficiency and effectiveness of public services.
Speaking to BBC Radio Wales, he said: "There may be some people still in denial that local government reform is happening and who believe that they can stay on their own.
"I think the reality is dawning on people that there's going to be significant change within local authorities.
"For some that has dawned earlier than others and some have been willing to embrace proposals for voluntary merger.
"I think in some cases there may well be parochial interests at work."
Mr Andrews told the Sunday Supplement programme the incentive for voluntary merger was that councils could have a say in shaping their own destinies.
A white paper is expected in the new year for consultation ahead of a draft bill in the autumn.
Mr Andrews said any bill to merge councils would not be enforced until after the assembly elections in 2016.
Hear the latest edition of Sunday Supplement from BBC Radio Wales via the iPlayer