Ineos in Milford Haven to fill jobs at Grangemouth site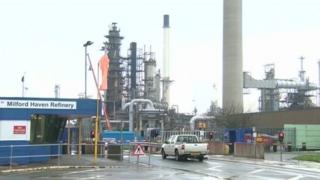 Workers losing their jobs with the closure of an oil refinery in Pembrokeshire could be offered work by a petrochemical company in Scotland.
Over 340 jobs are to be cut at the Murco refinery in Milford Haven after the collapse of a planned sale.
Ineos is holding a recruitment drive in Milford Haven next week to fill vacancies at its Grangemouth site.
The Murco plant is to be converted to a storage site, needing only 60 staff.
Ineos' recruitment event is to be held at the Lord Nelson Hotel in Milford Haven on 26-27 November, according to an advert in a local newspaper.
It is looking for specialist workers at its plant which is located 25 minutes from Edinburgh and Glasgow.
It says it is Scotland's largest manufacturing complex serving the oil and gas industry.
A task force has been set up by the Welsh government to help Murco workers affected by the closure, along with a £3m fund to protect and create jobs in Pembrokeshire.
Earlier this month, Murco's American owners Murphy Oil said it had no choice to shut the plant after sale talks with the Klesch Group collapsed.
Murco spent four years trying to find a buyer for its Milford Haven refinery.
According to the Unite union, the refinery also employs a further 200 contract workers.