Long-haul future for Cardiff Airport, says Carwyn Jones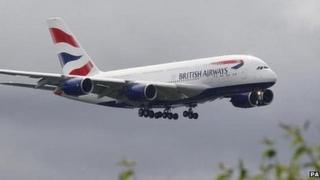 Cardiff Airport's future lies in long-haul flights, not competing with Bristol on closer destinations, First Minister Carwyn Jones has said.
He told AMs the airport "will not lose money this year as it did in the previous financial year".
But Welsh Tory leader Andrew RT Davies said there were "substantial negatives" at the airport and "few new routes".
Last week, German airline Germanwings announced it was ending flights between Cardiff and Dusseldorf in 2015.
The airline said it was because the route did not meet its expectations.
Cardiff Airport was bought by the Welsh government for £52m in 2013 and ministers have set aside £3m to spend on developing routes next year.
At First Minister's Questions in the Senedd, Mr Jones said: "Bristol Airport has been very successful in short-haul flights and in business flights and it would be very difficult to take Bristol on, if I can put it that way, in that regard.
"However we do have great advantages over Bristol in terms of long-haul flights, in terms of the length of the runway, in terms of the 24-hour operation that we have."
'Holy grail'
He said there was potential to widen Cardiff's runway to accommodate an Airbus A380, the world's largest passenger plane.
"So that's where the advantages will come for us in the future," he said.
But he warned that trans-Atlantic routes were not a "holy grail".
He said the Welsh government wanted private investors to buy shares in the airport and "there is interest" in forming a public-private partnership.
Passenger satisfaction had increased "enormously", Mr Jones said, adding that Welsh ministers were "very optimistic about the airport's medium to long-term future".
A British Airways A380 superjumbo visited the airport for the first time last year, to test its ability to handle an aircraft of its size and prove it could cope in the event of a diversion.