Conwy and Denbighshire councils back voluntary merger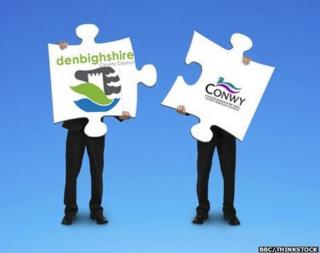 Conwy and Denbighshire councils have voted in favour of a voluntary merger.
The decisions come amid a Welsh government drive to cut the number of authorities from 22 to as few as 10.
Members were told a voluntary link-up would give staff a "clear sense of direction" and offered benefits over a forced merger.
Leaders of the two councils said they would investigate a possible merger as long as it offered "substantial financial advantages".
The 22 county and county borough councils across Wales have been considering their options for mergers in the wake of a report by the Williams Commission in January.
The Welsh government believes a cut will ultimately reduce the cost of local government and improve its management.
Quicker savings and decisions over planning issues were among the advantages of a voluntary rather than forced merger, according to reports considered by Conwy and Denbighshire councils at special meetings of each authority on Monday.
However, concerns have been raised about funding the costs of merging and the ability to manage the process while cutting council services.
Cost savings
Denbighshire council leader Hugh Evans said: "We were the first councils in Wales to publicly declare an interest in the potential of a merger with a neighbouring authority, but we must make it clear that this is an expression of interest and not a full business case for merger.
"We have agreed to formally explore the options, with a view to consider submitting a full business case in the summer."
Conwy council leader Dilwyn Roberts added: "There are similarities between the local authority areas - cost savings could be made.
"There is early encouraging support from the Welsh government and there are advantages to voluntary merger over a compulsory move, but there are also risks to managing the merger process and the outcome."
Councils have until the end of November to submit their preferred merger plans or face the prospect of a decision taken by the Welsh government.
Conwy and Denbighshire expect a response to their expression of interest in January 2015, and will then begin work on a full business case for merger to be considered in the summer.