Operators make 'too much' profit from bus subsidies, report warns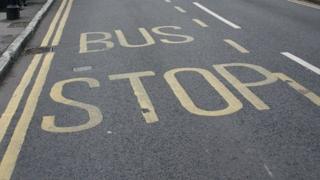 Bus companies are making too much profit from Welsh government subsidies, a think-tank sponsored by Welsh ministers has concluded.
The Public Policy Institute for Wales estimates firms could be making excess profits of as much as £22m a year.
Report author Prof John Preston said there was no "noticeable" benefit from higher subsidies paid in Wales.
Ministers say they will negotiate directly with operators on deals for key routes from next year.
Prof Preston, a transport expert, said: "Wales pays higher subsidies than the rest of Great Britain, outside of London, without any noticeable added benefit, and the lack of competition in some areas makes it likely that some subsidy leaks into operator profits.
"Our modelling suggests that this could be as much as 18%."
'National significance'
The report recommends using legal obligations in contracts to improve performance as part of so called "Quality Partnerships".
It also suggests door-to-door services allowing pre-booked tickets would work better in rural parts of Wales.
Ministers said they intended to negotiate deals over bus routes of "national significance" directly from late next year, rather than leaving the agreements to local authorities.
In a statement, the Welsh government said: "We have already established a new Bus Advisory Group to review policies and look at new approaches to funding.
"We asked Dr Victoria Winkler, director of the Bevan Foundation, to review the operation of bus services in Wales.
"In line with her recommendations we will be introducing Quality Bus Partnership Schemes across Wales and are changing procurement procedures to enable us to directly procure bus services from autumn next year."