£3m fund announced after Murco job losses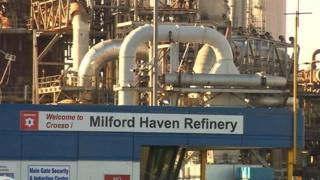 A £3m fund to protect and create jobs in Pembrokeshire has been announced, in response to 340 job losses at the Murco oil refinery in Milford Haven.
The planned sale of the plant to the Klesch Group collapsed last week.
Economy Minister Edwina Hart also said officials would do "urgent work" on ways to improve the A40, including "the potential for dualling" of the road.
Mrs Hart confirmed the appointment of Stan Mcllvenny as the new chair of Haven Waterway Enterprise Zone.
Mrs Hart told AMs: "I will be introducing a special round of the Welsh Economic Growth Fund that will be open to support businesses in creating and safeguarding employment in Pembrokeshire.
"That £3 million fund will sit alongside a £500,000 new round of the SME (small and medium sized enterprises) Growth Fund that I am committing to, aimed at supporting smaller and microsized companies to maximise the employment and growth opportunities in the region."
'Accelerate'
She said improving transport links was also a priority, an issue raised on Tuesday at a meeting of a task force set up to respond to the Murco job losses.
"I have been asked by the task force to consider the issue of the dualling of the A40," she said.
"I have instructed my officials to accelerate, to the full extent possible, the programme for delivering improvements at Llandewi Velfrey.
"I have also asked my officials to conduct further, urgent work, to explore additional ways to improve the A40, including the potential for dualling. This work will be complete within 6 months."
The pledge to investigate the scope for dualling the A40 was welcomed by Pembrokeshire council.
Its leader, Jamie Adams, said: "The thoughts expressed by the minister are consistent with the views long held by the county council that in order to bring sustainable economic benefits to Pembrokeshire, we must have safe and effective transport links."
Mr Mcllvenny, the new local enterprise zone chair, is currently chief executive of Port of Waterford Company, in the Republic of Ireland.
Mrs Hart said he brought a "wealth of experience and expertise in the port sector across shipping, logistics, warehousing, rail and fleet transport".