The former Home Secretary and Gary Sprake's brother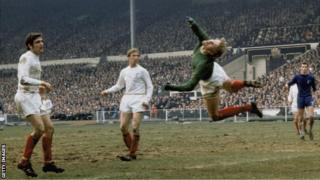 The connection between former Home Secretary (and ex-future Labour leader) Alan Johnson and Leeds and Wales goalkeeper Gary Sprake is not an obvious one.
After all, Alan Johnson is a Queens Park Rangers fan. But Mr Johnson's latest memoir - Please, Mr Postman - recalls the time he helped save Mr Sprake's brother's job.
Bill Sprake was a postman in Preston, who was arrested after briefly removing and reading a holiday brochure from a clear plastic envelope that was part of the mail he was sorting.
His treatment prompted a walk-out by colleagues. Johnson writes: "Bill Sprake was a decorated war hero, now in his sixties, a palpably decent man with an unblemished record of service to the Post Office. What he did may have been a mild disciplinary offence....yet it was treated not as a disciplinary case but as a criminal offence.
"The fact that Bill happened to be the elder brother of Gary Sprake, the Leeds United and Wales goalkeeper, brought additional attention to the case."
Bill Sprake had initially been taken to a police station and placed in a prison cell. Enter union rep Alan Johnson, whose "bond of trust" with a Post Office manager enabled Bill to avoid disciplinary action.
Johnson adds: "Since Gary was famous for some spectacular blunders, I joked that, given his family connections, it was a wonder that Bill had held on to the brochure long enough to read it."
This, his second memoir covers the period between his early years as a postman (my own home would have been on his delivery round) to life as a full-time official before being elected to Westminster.
The beautifully-written book offers rare insight into a background that is unusual in modern politics, the "backstory" that persuaded so many he could have been an effective Labour leader or prime minister.
A "safe pair of hands" perhaps - just like Gary Sprake.