'Ambitious' further Welsh devolution pledge by UK government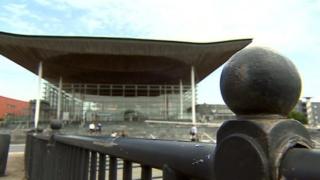 "Ambitious" further devolution proposals for Wales by March next year have been promised by UK ministers.
A new system making it clearer which powers are devolved would be included, said Wales Office Minister Baroness Randerson.
She was speaking as the House of Lords discussed current devolution plans under the Wales Bill.
It will give tax-varying powers to Wales, including scope to amend income tax rates subject to a referendum.
More than £300,000 has been spent by the Welsh and UK governments on three Supreme Court cases relating to disputes over authority to pass legislation.
Baroness Randerson said a "reserved powers framework" for the Welsh assembly would bring "much needed clarity to the devolution settlement".
It would mean everything is considered to be devolved to Wales unless legislation specifically says that it is not.
'Historic opportunity'
Peers were told the present "conferred powers" model for the assembly had "weaknesses" and that the political parties all agreed to the need for change.
Baroness Randerson promised UK ministers would produce a "reserved powers framework and a set of commitments to further devolution agreed by all the parties" by St David's Day, 1 March.
She said the coalition government was determined to achieve a "comprehensive approach to the next stage of devolution" in Wales before the general election in May.
"This is an historic opportunity to achieve a major step towards a lasting and fair devolution settlement for Wales, so we are not constantly having an ongoing discussion about what are the next powers to be devolved to Wales," she added.