Training for teachers in Wales is 'chaotic', says Huw Lewis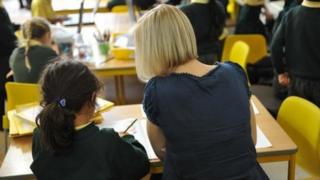 The training system for teachers in Wales is "chaotic" and needs "order", Education Minister Huw Lewis has said.
He told the BBC's Sunday Politics Wales programme teachers must "step up to the challenge" of changes to their training and professional development.
Mr Lewis also pledged new Wales-only GCSEs, due to start next year, would be "robust" and "tough".
Since September, schools have had a legal duty to explain how they meet staff professional development needs.
It is part of a "new deal" on teacher training, launched earlier this year, and follows concerns raised by the international think tank, the Organisation for Economic Co-operation and Development (OECD).
Mr Lewis told the programme: "... it's quite often difficult for a teacher in a very busy school environment to be able to steer themselves in terms of career development through what is a maze of multiple courses on offer.
"It's very difficult to know where to turn to next if you're aiming for that promotion to be head of department, for instance.
"I want to bring order to that chaos and work alongside the professionals to make sure that we do have a career path that a teacher first of all understands, that is available to every teacher and that they can navigate."
Mr Lewis this week launched a publicity campaign about new maths, English and Welsh GCSEs being launched in Wales next September.
He said employers and universities must be "active partners" in drawing up the new-look qualifications.
The Welsh government had the evidence "to be confident about saying that our new qualifications are robust, they will be portable, and they will be of the very highest level of excellence", he said.
"They are tough qualifications - but that means they are worth having," Mr Lewis added.
'Baseless'
£3m is to be spent supporting teachers for the new qualifications.
The qualifications have been endorsed by some business leaders and universities as part of the Welsh government's campaign, but an organisation representing private schools has raised doubts.
The Welsh Independent Schools Council (Wisc) questioned the credibility of the Wales-specific courses, but Mr Lewis said that was a "baseless comment" because Wisc did not know the content of the qualifications at the time.
Sunday Politics Wales is broadcast on BBC One Wales at 12:25 GMT on Sunday 9 November