Welsh cancer drugs fund is ruled out by Mark Drakeford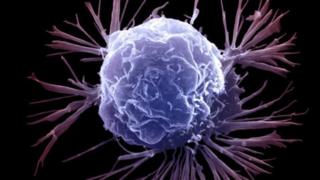 The Welsh government has "no intention" of creating a cancer drugs fund, health minister Mark Drakeford has told AMs.
Mark Drakeford was challenged by the Conservatives to respond to a nearly 100,000-signature petition calling for one to be set up in Wales.
Tory AMs said Welsh patients faced "an obvious injustice" as such a fund was established in England in 2010.
Welsh ministers have now announced changes to the system of prescribing drugs not available on the NHS.
Welsh patients suffering from all illnesses, including cancer, must apply for health board funding for the drugs through the Individual Patient Funding Request (IPFR) system.
Following a consultation on the IPFR system, the Welsh government announced changes that it said would make it easier and quicker to prescribe new drugs.
The changes are also designed to ensure more consistency in a system that operates on a regional basis through individual health boards.
Speaking in the Senedd, Mr Drakeford rejected the need for a cancer drugs fund, saying the system in the Welsh NHS was "fair to all patients, is clinically driven, provides good outcomes at a cost effective price - and that is the right way to do it."
Health ministers in England set up a cancer drugs fund in 2010, which is currently worth £280m a year.
'Simply unfair'
The petition was delivered to the assembly by Ann Wilkinson, from Usk in Monmouthshire, who has obtained the specialist drug Avastin to treat her bowel cancer but had her initial application refused.
Welsh Conservatives point to research by the Rarer Cancers Foundation in 2013 that found patients in Wales are four times less likely to receive new treatment than those in England.
Monmouth Tory AM Nick Ramsay, who received the petition, said: "Time and again we hear tragic stories of long, difficult battles to get hold of treatments and Ann Wilkinson's case is a clear example of that.
"Labour's decision not to introduce a cancer drugs fund in Wales is unnecessary, unfair and entirely wrong."
The Welsh Liberal Democrats are calling for applications for specialist medicines in Wales to be dealt with by a national panel.
The party's leader Kirsty Willliams said: "Patients are told different things in different parts of the country and that is simply unfair."